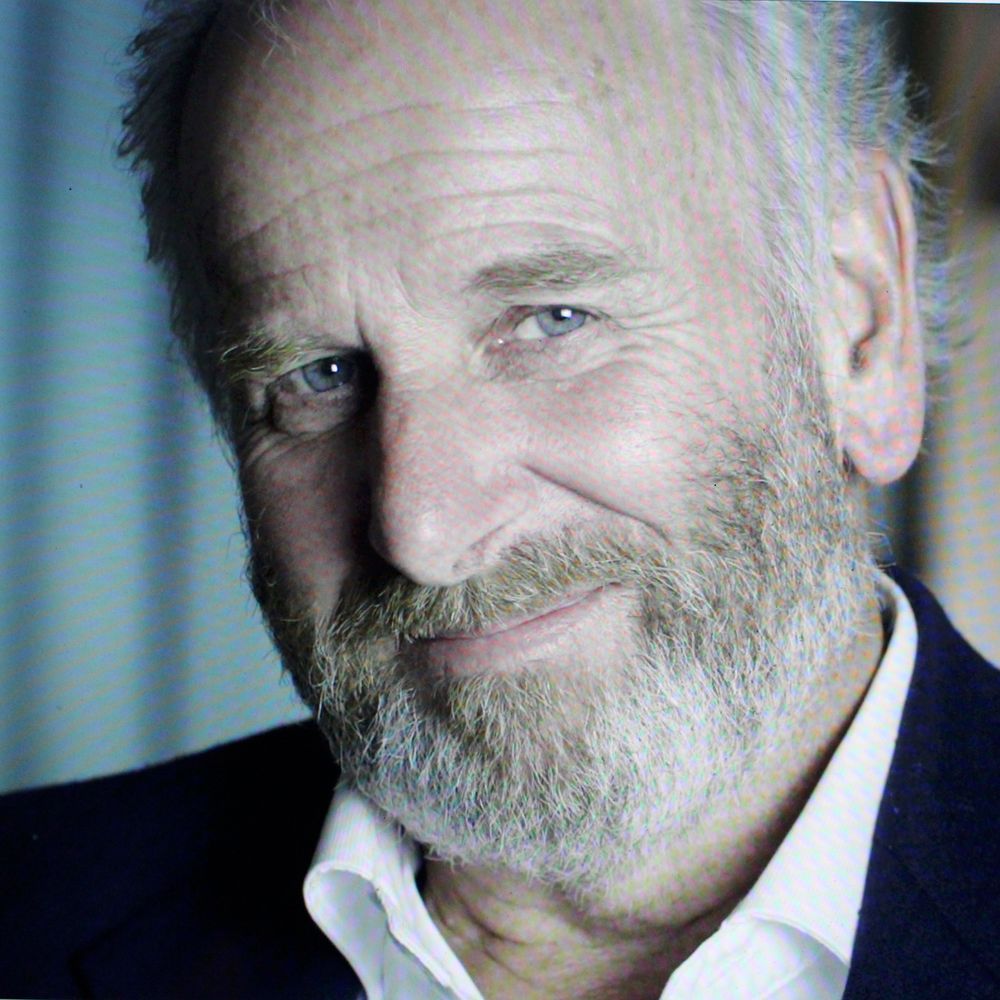 SHAUN DAVEY
Short Biography
Shaun Davey was born in Belfast in 1948. While continuing his education in Belfast, he moved to DD in 1962 and later attended Trinity College before graduating to do an M.A in the History of Art at the Courtauld Institute, London. He returned to Dublin in 1973 to form an experimental band with Planxty's Donal Lunny, then spent two years as lecturer at NCAD before returning to music full-time. Largely self-taught, he gained valuable experience at this time, writing and recording music for commercials, in theatre songs for Stewart Parker's Catchpenny Twist  and in composing and directing music for several RTE TV series and documentaries. In 1979 he began work on The Brendan Voyage, a musical retelling of Tim Severin's voyage across the Atlantic to explore the legend of St Brendan. Recorded in 1980 this was the first of his seven albums originally released on the Tara label.
Since this goundbreaking collaboration with uilleann piper Liam O'Flynn and a symphony orchestra, Shaun Davey's concert work continues to explore common ground between 'traditional' and 'classical'musicians, creating frameworks whereby musicians from both aural and notated traditions share the same stage. Further ambitious collaborations followed, many featuring the voice of singer Rita Connolly; The Pilgrim, Granuaile and The Relief of Derry, which also established his readiness to employ langauges other than English in service of a narrative, eg Irish, Scots Gallic, Breton and Welsh. Later works demonstrate equal ease with Latin and Romanian.
From 1987 Shaun Davey has been in demand as composer for theatre, supplying many scores both for the Abbey Theatre, Dublin and for The Royal Shakespeare Company in Stratford-upon-Avon and London including King Lear and The Lion, the Witch and the Wardrobe. In the U.S. his Broadway score for James Joyce's The Dead was nominated for a Tony and won the New York Critics Awards; in 2011 his score for The Tempest won the Critics Award in San Diego. In 2016 his score for Pericles was nominated for a New York Drama Desk award.  A concurrent career in TV included a score for Hallmark's David Copperfield, and saw him nominated twice for a BAFTA (The Hanging Gale and Ballykissangel), winner of an Ivor Novello (The Hanging Gale) and a TRIC award for best UK TV theme. His scores for feature films include Waking Ned Devine, Twelfth Night and Tailor of Panama.
Shaun Davey's output in concert work since 2003 includes music for the Dublin Special Olympics, music and concerts with the sean nós band Béal Tuinne, concert tours in Romania with Songs from The Merry Cemetery, film score suites, collections of Sea Shanties, carols and Christmas songs, chants from his score for Gulliver's Travels,  and songs based on the life of Nora Barnacle and James Joyce. His music has featured on the Irish schools' syllabus, his setting of St Patrick's prayer for travellers, The Deer's Cry, remains his most-performed work.  Shaun Davey is an honorary fellow of the Royal College of Physicians, he has four children and lives in Wicklow with his wife, singer Rita Connolly.  He continues to compose for annual concerts with the RTENSO at the National Concert hall. Dublin.
SHAUN DAVEY - Biography. 
EDUCATION 
Shaun Davey was born in Belfast in 1948 and educated in the North of Ireland. Following his family's move to Dublin he studied for a general arts degree at Trinity College, Dublin. He studied History of Music with Brian Boydell and History of Art with Anne Cruikshank and graduated In 1971 with a scholarship to study at the Courtauld Institute of Fine Art in London. There he specialised in the history of the High Renassaisance and art movements of the 20th century. His Master's thesis was on the transitional painting style of Jack B. Yeats. Subsequently he lectured for two years at the National College of Art and Design and, for a time, was a tutor at his old university. 
MUSICAL DIRECTION 
Increasingly a passion for music led him away from an academic career. From an early age he had spent hours listening to his parents classical record collection and sitting at the small family upright piano, playing by ear. At Trinity he sang and played keys in a college Blues band, where his contemporaries included Jolyon Jackson and Roger Doyle (the first to show him a handwritten orchestral score). There he was influenced by Traditional Irish and World music movements and heard the uilleann pipes for the first time. While studying in London he teamed up with fellow college blues band member James Morris to record an album of original songs for York Records, working with members of the Strawbs and Planxty's Donal Lunny. This experience influenced Morris's later decision to found Windmill Lane Recording Studios, and created in Davey a determination to seek a full-time career in music. 
Opportunites to earn a living by writing music were provided in Dublin in the mid 1970ies by a vibrant advertising industry.  Starting in 1975, Davey began to build a reputation as a talented writer and arranger of music for commercials. With the requirement to work in a wide range of styles, he also learned the skills of studio production. Over a period of years he found himself commissioned to produce memorable themes for leading brands in Ireland and, on occasion, to the UK. His Christmas music for Penneys continues to be heard after 40 years. In theatre he worked on songs for Stewart Parker's Catchpenny Twist at the Peacock, and in 1977 produced the music for Parker's version for the BBC television Play for Today in Dublin. As producer he oversaw album recordings by Sonny Condell, Midnight Well, Rita Connolly, Stockton's Wing and Liam O'Flynn. 
EARLY CONCERT WORKS 
In 1979 he began to compose The Brendan Voyage, initially for Harry Bradshaw's RTE Radio programme An Droichead Beo which sought to explore connections between the Arts. His ambition was to compose on an orchestral canvas, using experience he had gained as an arranger, and to create an integrated soloist's role for a traditional musician playing a traditional instrument. The narrative of Tim Severin's epic voyage across the Atlantic in a replica medieval leather boat provided the ideal narrative, and Planxty's piper, Liam O'Flynn, the ideal soloist. As well as marking the beginning of his lifelong association with O'Flynn, this was the first of Davey's concert works both to explore aspects of Irish history and to attempt to find ways of pairing musicians of an aural tradition with those of the orchestra, a preoccupation central to many of his concert works. After début performances in Rennes and Lorient, The Brendan Voyage had its Irish premiere in 1983 at the National Concert Hall, Dublin, and has since been performed in the UK, Denmark, Germany, Spain, Australia, Canada and the USA. Davey produced the recording in Windmill Lane for John Cook of Tara Records in 1980, the first of seven albums with the label. The Gale, a movement from the suite, has been included in the Irish school syllabus. 
The Pilgrim, a suite for Celtic soloists and orchestra, followed.  Commissioned in 1982 by the Lorient Interceltic Festival and staged in the Lorient football stadium, the original live recording included early performances by sean nós singer Iarla O'Lionaird and Galician piper Carlos Nunez. The premiere of The Pilgrim also featured the orchestral debut by singer Rita Connolly for whom, in 1985, Davey composed Granuaile, a suite of orchestrated songs based on the life of Grace O'Malley. One of the songs, Ripples in the Rockpools, with its shifting time signatures, was included in the Irish school syllabus for many years. In 1987 Davey co-produced a performance of Granuaile and related events at the Greenwich Festival, London. Sponsored by Heiniken, the concert and arrivals of the Irish sail training brigantine Asgard and a Hebredian war galley were filmed for TV by Windmill Pictures and RTE. Granuaile was subsequently paired with The Brendan Voyage in many concerts including with the RTECO at Seville Expo and at the Albert Hall. 
In 1988 he was commissioned by Derry City Council to compose a work to commemorate the historic events of 1689, The relief of Derry Symphony . It was staged in the Guildhall in 1990 with the Ulster Orchestra and soloists Liam O'Flynn, Rita Connolly and Gerard MacChrystal with pipeband and trumpets from the community. Composed some years before the Belfast Agreement, it has since been referred to as a 'symphony of peace', and has been performed several times by the RTENSO in the RDS and NCH and also in conjunction with Old St Pats Cathedral at Chicago Symphony Hall. 
In 1990 he revised The Pilgrim for a performance as part of Glasgow City of Culture's series at Glasgow Royal Concert Hall. It featured the new role of Narrator played by the actor Mick Lally.  A commission from the Northern Ireland Arts Council for a Double Harp Concerto followed in 1992, the composition process filmed for a TV documentary by Brian Waddell (The Year of the Harp).  In 1995 Davey was sponsored by Telecom Eireann to compose Gulliver, a 60-minute work for orchestra and choir in five movements based on the five voyages in Jonathan Swift's Gulliver's Travels. By using verses from the Psalms of the King James Bible the work aims to trace parallels between imagery common in religious services and the storm-driven process by which Swift's Gulliver becomes disaffected and disconnected from humankind. It received its premiere at the National Concert Hall, Dublin, with the RTENSO, Tallaght Choral Society and choir of St Patricks' Cathedral, conducted by Gearóid Grant.   
THEATRE 1986-2002 
Increasingly, from 1986, Davey was in demand to compose music for theatre. This followed an invitation from Trevor Nunn to compose the songs and score for Fair Maid of the West at the opening of the new Swan Theatre in Stratford-upon-Avon. Between 1990 -2002 he composed music for the RSC live ensembles of varying size (4 - 14 musicians), on all of the RSC stages in Stratford-upon-Avon, The Barbican, The Roundhouse and Sadlers Wells . His credits include scores for Adrian Noble's productions of A Winter's Tale, King Lear, Romeo and Juliet, Pericles and The Lion the Witch and the Wardrobe. The latter, in collaboration with Adrian Mitchell, has been seen in Sweden, the USA and continues to be regularly performed as a children's Christmas show in the UK. He also wrote the music for Sam Mendez's RSC productions of Troilus and Cressida and The Tempest.  London-based RSC productions included Columbus and the discovery of Japan and Frank McGuiness's Mary and Lizzie. Elsewhere in the UK his scores for theatre included Lady from the Sea at the Almeida, Skellig at the Young Vic (both directed by Trevor Nunn), Three Sisters at the Nuffield Theatre, Southampton,  Sebastian Barry's  Steward of Christendom at the Royal Court and White Woman Street at The Bush. 
In Ireland during the same period he composed and recorded music for Peer Gynt at The Gate, and for many of Patrick Mason's productions at The Abbey including The Silver Tassie, Well of the Saints, and Angels from America. Other Abbey productions included The Corsican Brothers, The Crucible,  Fanny Hawke, and The Only True History of Lizzie Finn. Also at the Abbey, while working on Frank McGuinness's Observe the Sons of Ulster marching towards the Somme, he had his first encounter with a Lambeg Drum. 
In 1998 he collaborated in New York with U.S. playwright Richard Nelson on a musical adaptation of James Joyce's The Dead with a seven-member band, and a cast which included Marnie Nixon, Sally Anne Howes and Christopher Walken.  In 1999 the music received a New York Critics' Award and, after transferring to Broadway, a Tony nomination. 
TV and FILM 1995-2003 
The beginning of Davey's period as composer for TV and Film overlapped his years in theatre. In 1995 he was chosen by director Diarmuid Lawrence to compose and record music for The Hanging Gale, a four-part BBC drama set in the years of the Great Famine. His score won the Ivor Novello Award for best film music and was nominated for a BAFTA.. This led to further commissions from the BBC; the film Loving and three seasons of Ballykissangel (awarded a TRIC for best UK TV theme and a second BAFTA nomination). In 1997 he composed and produced songs and score for Trevor Nunn's film adaptation of Twelfth Night, (nominated for a second Ivor Novello).  In 1998 he composed the music for Waking Ned Devine winning a Golden Reel Award, followed by the score for Peter Medak's TV film of David Copperfield for Hallmark, recorded with the orchestra of St Martin-in-the-Fields. In 2000 he composed scores for John Boorman's The Tailor of Panama for Columbia and, the following year, The Abduction Club both of which he recorded - as with all but two of his TV and Film scores - with engineer Brian Masterson and the Irish Film Orchestra at Windmill Lane Studio, Dublin. In these years Davey also provided the music for four historical exploration documentary films by Tim Severin. 
RETURN TO CONCERT MUSIC 2000-2010 
In 2000 Davey was approached by Seán Ó Beacháin, headmaster of Coolmine Community School with a proposal to stage a concert of The Pilgrim in the new Blanchardstown Shopping Centre. Both the unusual setting and Ó Beacháin's encouragement to compose new pieces involved a return to music for live performance. It was also an opportunity to continue to work with musicians from different traditions, and to employ arranging skills developed during five years of film scores. A revised narrator's role - this time played by Ben Kingsley with whom he had worked on Twelfth Night - added new cohesion, while new sections for Celtic soloists, choir and orchestra heightened the drama of a journey on an epic scale. Later that year The Pilgrim made a trumphant return to the Lorient Interceltic Festival, and again in 2001 when, after Lorient, the frontline travelled over the sea to the Isle of Skye for a concert in Sabhal Mor Ostaig. The performance, which included the bagpipes of the Macdonald brothers, was recorded for BBC radio and broadcast on Christmas Day. 
In 2001 he was invited by the RTECO to do a piece for the opening of The Helix Concert Hall. His specially-arranged Fill to me the Parting Glass was performed with The Voice Squad and the National Chamber Choir. In 2002 he returned to the RSC for Pericles, directed by Adrian Noble at The Roundhouse, London. His score included an original song, Compass of Winds, and Music of the Spheres, designed to be played on tuned handbells in a circle behind and around the audience. Two more UK theatre scores completed the year; Trevor Nunn's Lady from the Sea at the Almeida and Checkov's Three Sisters at the Nuffield Theatre, Southampton 
In 2003 Davey was commissioned by Rupert Murray and Tyrone Productions to compose music for the Opening Ceremony of the Special Olympics Summer Games. Again, his large-scale arrangements featured collaborations between musicians of different traditions;  percussionist Noel Eccles, the button accordions of Seamus and Breanndán Begely, uilleann pipes byLiam O'Flynn, seven Dublin choirs, pipeband and the RTENSO conducted by David Brophy. The Dublin Special Olympics Suite contained the anthem May we never have to say goodbye, sung by Rita Connolly and Ronan Tynan, and was performed in Croke Park for the 7000 special needs athletes and their families before an audience of 80,000. He worked at the same time on a score for the Miramax fantasy adventure, Ella Enchanted, recorded in Windmill that summer but never used. This experience, combined with a temporary health setback led to his decision to withdraw from film music in 2003, to spend more time in West Kerry, and ultimately to concentrate instead on music for live performance. 
After a period of revisions and typesetting of existing works, he recorded the album May we never have to say goodbye with the RTENSO. It featured the suite for the Special Olympics and its release on Tara in 2006 was coupled with the first in a series of large-scale annual concerts with the RTENSO at the NCH. 
In parallel Davey began to explore the possibilities of a more intimate, 'home-made' music; he acquired a pedal harmonium and co-founded the band Béal Tuinne with West Kerry musician and neighbour Seamus Begley.  The purpose was to perform a new collection of songs based on the Irish poems of Caomhín ó Cinneide. A début concert by the band, which included Rita Connolly, Lawrence Courtney and the poet's daughter Eilís Kennedy, was held in St James's church, Dingle and was filmed for a TV by Phillip King and Hummingbird. 
Following the release of the band's album, for the next two years Davey combined touring with composing 'occasional' music; a 2007 commission for the National Museum of Ireland to celebrate the arrival and exhibition of a replica Viking longship from Roskilde; The Finest of Arts performed in Dublin Castle as part of the Florence Nightingale commemorations, and an anthem for the DCU annual conferring ceremony with words in Irish by poet Nuala Ní Dhomhnaill. 
Following a visit to Romania in autumn 2008, he composed Voices from the Merry Cemetery, a 40 minute suite of orchestrated songs for male-voice choir and soloists based on epitaphs on the wooden crosses in a churchyard in Northern Romania. As a cross-cultural collaboration it owes its genesis to the Ireland Romanian Cultural Foundation and it enjoyed support by the Romanian Embassy, travel funding from Culture Ireland and later also from The Romanian Cultural Institute. The premiere was sponsored by the Sibiu International Theatre Festival in June 2009, and performed by the Men's Choir of Sibiu University directed by Fr. Dr Sorin Dobre, with members of the Sibiu Philharmonie. They were joined by an Irish frontline which included Liam O'Flynn, Rita Connolly, Noel Eccles, Gerry O'Beirne, conductor David Brophy and sound engineer Brian Masterson. 
In 2010, following a tour with the National Irish Youth Orchestra of Ireland (for whom he composed A Summer Overture) the team  - joined by Belfast keyboardist Rod McVey and composer Neil Martin on cello and pipes, returned to Romania to perform Voices from the Merry Cemetery (plus a traditional set) at the Drumul Lung Festival, brainchild of Irishman Peter Hurley. This time the concert took place on a stage specially built in Sapanta churchyard itself, close beside the border with Ukraine. The choir, orchestra and Irish musicians performed among the crosses surrounded by an audience of parishioners, relatives of those whose lives the music celebrated. The CD recording, begun the previous year, was completed in a church in nearby Sighetu. 
In late November that year Fr Dobre's Male Voice Choir travelled to Dublin to perform the suite for Romanian National Day with the RTECO in St Patrick's Cathedral. This programme also included first performances of Davey's Starlit Sky (based on a translation of a poem by Romanian poet Mihai Emenescu), and new orchestral arrangements of Four Christmas Carols.  In 2011 the Irish team flew to Bucharest to perform the same programme in a concert hosted by the Irish Ambassador, John Morahan, at the hallowed Ateneul Roman concert hall. The concert was filmed for Romanian television and broadcast multiple times. 
2011 - 2021 
Davey returned to theatre in 2011 for two separate productions of The Tempest. The first was directed by Adrian Noble at the Old Globe Theatre, San Diego, California, an outdoor theatre which backs onto the San Diego Zoo. The music was awarded 'best theatre music' by the San Diego Critics Circle. The second was directed by Trevor Nunn at the Royal Haymarket Theatre, London, with Ralph Fiennes as Prospero. More theatre followed in 2012 when he was invited to work with Romanian director Silviu Purcarete and the company of the National Theatre of Sibiu. For their challenging interpretation of Swift's Gulliver's Travels he created an electronic soundscape with integrated part for pedal harmonium and chants based on words from the Latin Psalms. Home again later that year he was commissioned by Rathdown County Council to compose a work for the Dunlaoghaire Choral Society; he selected words and stories from old sea shanties and set them to new music in a choral suite, Songs from the High Seas, arranged for mandolin, guitar, uilleann pipes, percussion and organ. It premiered at the NCH, Dublin and was performed the following year at the Dingle Festival. 
Orchestral Concerts continued in 2013; at the NCH with the RTENSO and a closing concert for Derry City of Culture. In the same year he composed songs for Lord of the Flies, a musical with the boys of Magdalen College School, Oxford, written and directed by Joanne Pearce and Adrian Noble. 
In August 2014, Davey organised a further tour to Northern Romania, this time with a new finale to Voices from the Merry Cemetery (Oameni cu Cai/Men with Horses) and an expanded lineup of soloists conducted by David Brophy.  In October Fr Dobre and the Male-voice choir travelled to Dublin to join the RTECO and soloists at the NCH. The programme included the premiere of Sunt Angelis, Davey's orchestral arrangement of the music from the Sibiu production of Gullivers Travels and the Béal Tuinne song, Chuis Carraig Aonair.  
He returned to the NCH again in 2015 with Nora, a 90 minute song cycle based on episodes in the life of Nora Barnacle, composed in collaboration with soloist Rita Connolly, Nuala Ní Dhomhnaill and the National Concert Hall.  Later that year he collaborated with Paul Muldoon on One Hundred Years a Nation to commemorate the 1916 centenary. In early 2016 he joined the company of Pericles, directed by Trevor Nunn at Theatre for a New Audience (TFANA), Brooklyn, New York. His score was nominated for a Drama Desk Award for theatre music. 
In 2016 he was made an Honarary Fellow of the Royal College of Physicians of Ireland since when, in addition to annual concerts with the RTENSO at the NCH, and concerts with his wife, Rita Connolly and children, he has engaged in new concert work. In 2019 this included Hymn to a Setting Sun, ómos do Liam O'Flynn  for uilleann pipes and orchestra, Tibi Cantabo for singers and orchestra, and a re-orchestration of Daniel O'Connell's Hymn of Happy People. 
During the 2020 pandemic he composed Concerto for Cello and Orchestra, commissioned by the RTENSO. He is preparing to begin a new work for orchestra.